If your website is growing, it's only a matter of time before you'll need more power than shared hosting can provide. Business Hosting delivers the same power and performance as a Virtual Private Server (VPS) without the pain of server administration. You get all the RAM, CPU and bandwidth you need without having to hire an IT pro to manage your server.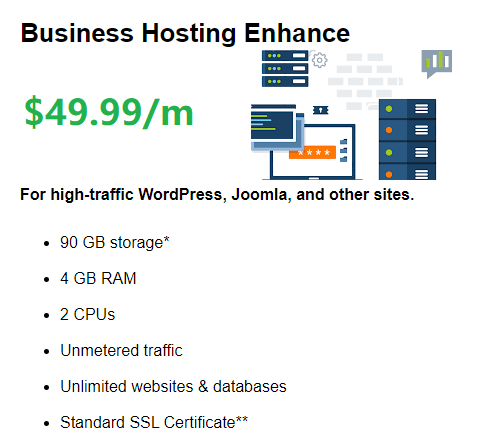 I have shared web hosting. How hard is it to upgrade to Business Hosting?

If you already use our web hosting, you can upgrade to Business Hosting with a single click. Your files would be automatically migrated and you don't need to uninstall and reinstall any files. If you have DNS set up with  us, you won't need to update your DNS manually.

Which default email service comes with it?

Business Hosting comes with default cPanel email where you can create unlimited accounts for free. Or you can use the one-user Office 365 plan that's included free for the first year.

How do I activate my Office 365?

Your one-year Office 365 can be activated from your account. If you need help migrating your existing email to office 365 or want to add more email IDs, call the Email Services team at 1-866-882-5482.

What are the benefits of Business Hosting?

Simplicity: You get the same easy-to-use cPanel control panel you're using with our shared hosting. You don't need server administration skills to manage Business Hosting.

Dedicated Resources: The memory and disk space that come with your Business Hosting are dedicated so they'll always be available for your use.

Complete Isolation: Because you have dedicated resources, your website will never be affected by other websites on your server.

How many websites/domains does Business Hosting support?

You can host an unlimited number of websites on Business Hosting.

What if I outgrow my Business Hosting plan?

Upgrading to a more powerful plan is a one-click affair.

What version of PHP and MySQL do I get with Business Hosting?

Business Hosting comes with PHP 7.2, 7.1, 7.0, 5.6, 5.5 and MySQL 5.6, the latest versions. This is a key requirement for Magento, CMS-Drupal and OpenCart websites and anyone running multiple WordPress websites.

How soon can I get my Business Hosting?

Although the average time for us to provision your account will likely be within minutes, it may take up to 24 hours or more.
What is PCI compliance?

The Payment Card Industry Data Security Standards (PCI-DSS or PCI for short) designates security standards to protect cardholders' credit card data. That means, entities that store, process or transmit credit card information are expected to be compliant to the standards in the Payment Card Industry Data Security Standards.

How can I accept credit cards online?

Our hosting services are a great place to setup your online presence and product catalog. You can then work with a third-party provider to process payments on your behalf to keep credit cards off your server. Whichever path you choose, make sure to be informed of additional requirements to keep your business PCI compliant.

What are the additional requirements I should know about?

We recommend you work with your payment provider (e.g., PayPal Checkout, Square Online Checkout and Stripe Checkout) to understand any additional requirements for which you are responsible. If you're using one of our PCI-certified products, we have a simplified checklist for you here.

What is AutoSSL?

AutoSSL is a free alternative to paid SSL certificates. With AutoSSL, your sites are automatically secured with a free, Domain Validated (DV) SSL certificate by Sectigo. Your SSL certificate will stay up-to-date and auto renew on your behalf.

How does AutoSSL work?

AutoSSL automatically assigns an DV SSL Certificate to websites created or managed within the cPanel account. With AutoSSL enabled, your websites are automatically secured with a free SSL Certificate. Upon expiration, your new SSL Certificate is automatically requested and assigned.

Is AutoSSL a cost-effective way to keep your sites secure?

Yes, AutoSSL is free and included as part of your hosting plan. It automatically assigns and renews an SSL Certificate to your site and every site in your cPanel account will be automatically assigned an SSL Certificate.

How much does an AutoSSL cost?

Nothing. AutoSSL is provided as a part of all Business Hosting plans. No additional charge applies.

What if I need help?

Business Hosting customers get the same 24/7 premium-level support we offer all our customers. Call 1-866-882-5474 anytime day or night to talk to our award-winning customer care group.