3ewebhosting takes the uncertainty out of hosting – and puts service, performance and value back in. No matter which hosting type or plan you choose, your site receives 24/7 maintenance and protection in our world-class data center and all automatically updated software. Your can always use the most advanced technologies into your website coding. And you get the expert, friendly service you deserve. All our Websites are placed in our Cloud Servers.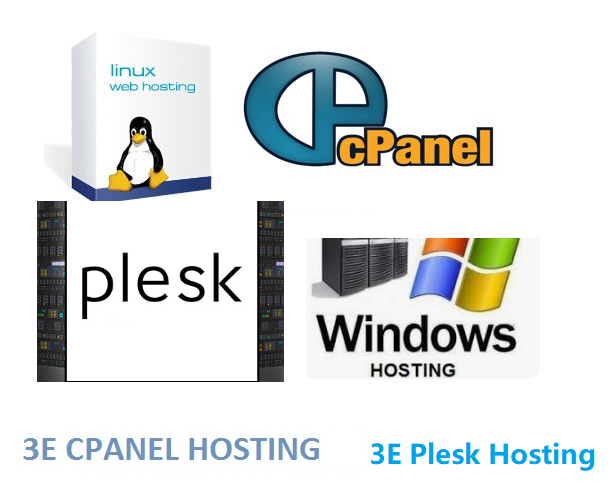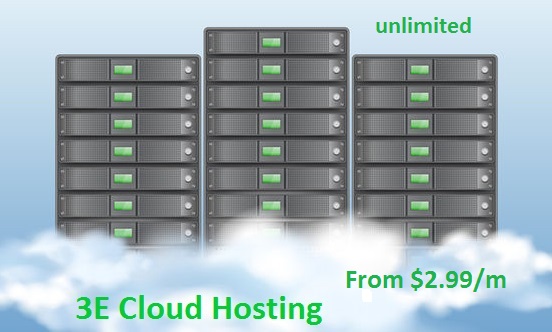 Clicking buy or subscription means you agree our Terms and Condition
Web Hosting Plan
Standard
Professional
Web Space
Unlimited
Unlimited
Bandwidth
Unlimited
Unlimited
Domain Allowed
1
Unlimited
Price (USD/mo)
2.99
6.99
Subscribe Now
Web Hosting Features
Free Site Builder
Unlimited FTP Accounts
Unlimited Email Accounts
Unlimited Subdomains
Unlimited MySQl
Unlimited Alias
24×7 Support
Instant Backups
No Contract!
99.9% Uptime Guarantee
30 Day Money Back Guarantee
Note:
All the money is charged in US dollar.
We invite PAYPAL to process your credit cards. We don't store credit card number.
All the web hosting accounts use cpanel as control panel Demo Username: x3demo, password: x3demo
We have severs around the world and we are the best web hosting for SEO purpose. We are the cheapest c class IP Hosting provider ( and Multiple IP hosting provider) .
Canadian must pay GST for both domain and web hosting service.
All the web hosting accounts have following features

Supported Web Hosting Features

Free Website Templates

More than 50 Free Scripts

PHP 5 with Zend Optimizer

MySQL 4+

Perl, CGI, SSI, FAST CGI

CPAN, Ruby On Rails

Python, CURL, GD

Image Magick, FrontPage

Streaming Audio/Video

Free Module Installation

All accounts will have the below E-mail tools

Web Mail

 (Horde, SquirrelMail, RoundCube)

E-mail Alias

Auto Responders

Mailing Lists

Catch Alls

Spam Assassin

Mail Forwards

IMAP, STMP

All accounts will have the below Control Panel Features…

The Latest Cpanel

Website Statistics

Hotlink Protection

Frontpage Extension Auto Install

Cron Job

phpMyAdmin

Theme Changer

php.ini EZConfig

IP Deny Manager

Custom Error Pages

Redirect URL

Web Based File Manager

PW Protected Directories

Instant Blogs

Instant Customer Support Desks

Instant PHPnuke

Instant Forums

Guestbook, Counter

Instant Portals

Instant FormMail

Fantastico

Multi Language
---
As a professional hosting company in the hosting industry for almost ten years, 3ewebhosting.com, makes sure you get the fully hosting features without paying an extra single penny. We are the perfect choice whether you are looking for business, personal, or even Fortune 500 hosting.
As some content web sites require more resources, we are unrelenting in optimizing your response time, uptime, and server load. We continuously rebalance our servers based on Web hosting plan selections and site traffic.
If you want to order Window Web Hosting Services with Plesk Control Panel, please go to Plesk Window Web Hosting Services
If you want to order Managed WordPress Web Hosting Services with temp domains, please go to Managed WordPress Web Hosting Services
We also provide Business Web Hosting, VPS web Hosting, and Dedicated Hosting
Why you chose us
---
We have been in web hosting business for almost ten years and we have experienced experts to solve your any kind of web hosting problem;
We use third Party credit card processing to process your credit card and you can cancel your subscription yourself;
We Don't Scam You With Promises Of Unlimited Webspace!
We never store your credit card information;
We have 30 days Money back guarantee;
We answer your questions and solve your problems 24X7 by real people not Computers;
We have 99.9% Uptime guarantee;
We have the lowest prices for Linux web hosting;
The $2.99/Mo web hosting plan is enough for most websites;
We have a lot of cheap web hosting plans to meet your needs
Complete Simplicity
Easy Integration
FREE Script Library
Get fast and reliable cPanel hosting.
Each Linux plan includes:
cPanel 
Access all the hosting features and settings you need with this industry-standard control panel.
CloudLinux
Keep your site online with truly balanced CPU, RAM and Disk IO limits
Resources on-demand
Get more CPU, RAM, EntryProcesses and I/O with just a click.
Cage FS
Protect your content 24/7 with this virtualized file system.
Free applications
Install over 125 applications on your website with just a click.
What is the advantages and distange of cPanel hosting
cPanel is a widely-used web hosting control panel. It was first released in 1996. For nearly two decades now, cPanel has gained immense popularity as a trustworthy and reliable web hosting control panel. cPanel runs on the Linux operating system here in PowerHoster.
cPanel is considered very useful in its extremely user-friendly, responsive and well-structured interface. We mange Linux operating system by command line and GUI when we host the domain in our Linux operation system.  But cPanel/WHM  has many features that make it a promising web hosting for all professional IT experts as well as the amateur users.
What is the Advantages of cPanel hosting ?
1.It is very easy to install.
The first benefit associated with cPanel is the fact that it is very easy to install. It only needs the Linux system requirement of a minimum of 20 GB available disk space, and at least 512 MB of RAM. The installation process is very simple and is laid out in a few simple steps that the user can easily follow.
2. It has very user-friendly interface. Easy to navigate,  colorful,  and vibrant.
cPanel offers a beautiful client-side interface.  It is extremely easy to navigate,  with an icon-based menu on the main page,  linking the user to the important features which the control panel offers.The user interface of the control panel is very simple and easy.  The graphic interface has been designed to be user-friendly and highly responsive. Hence, the users find no problem whatsoever in handling the control panel on their system.
cPanel has easily skinnable,  many skins available:    cPanel is an extremely easy control panel to skin,  and many design and skinning companies have taken advantage of this.  Skins such as iCandy and cPanel XP 2004 provide an amazing interface design,  which can set your company apart from the competition.
3. It supports easy commands for complex functions.
The users will be able to perform all basic as well as complex tasks such as evaluation of available disk space. System maintenance and system backups in a few simple clicks only.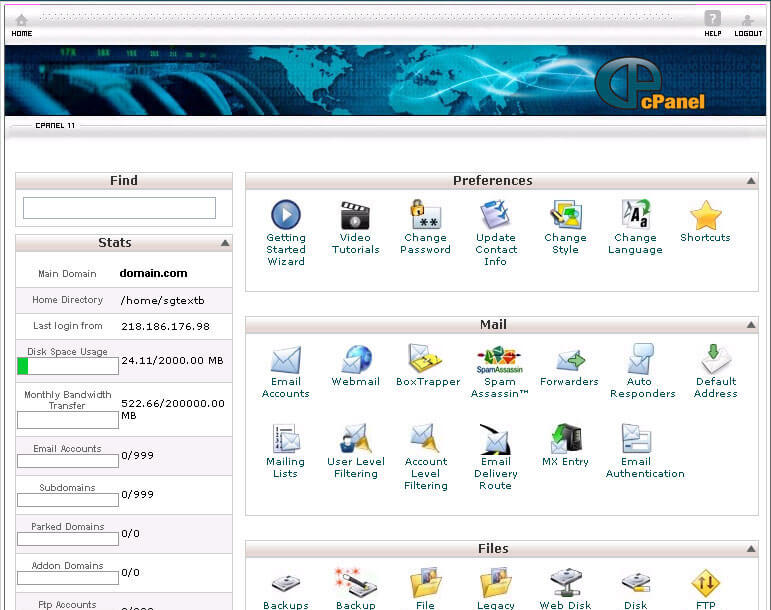 4.cPanel can run in  Wide array of supported operating systems
including Redhat,  Free BSD,  CentOS,  Fedora,  Debian,  and Trustix:    cPanel has been developed to offer support for many of the most popular operating systems for web servers.
5. Compatibility.
cPanel  is compatible with different browsers.  from Firefox, Chrome, Opera, and Safari,  Internet Explorer, users will be able to run cPanel without any problem.
Moreover, cPanel can support third party software add-ons that can help users in building dynamic and robust websites.
6.  Various addons to the control panel,  such as cPanel PRO and Fantastico available
cPanel has made it easy to incorporate third-party applications into their control panel software.  The most popular cPanel addon is,  without a doubt Fantastico,  developed by Netenberg.  Fantastico is an auto installer program,  which allows the hosting client to set-up scripts from a library of over 50 within seconds. can range from blogs, bulletin boards, and guest books.The use of these apps will benefit website owners and firms as they can improve the functionalities of their respective sites.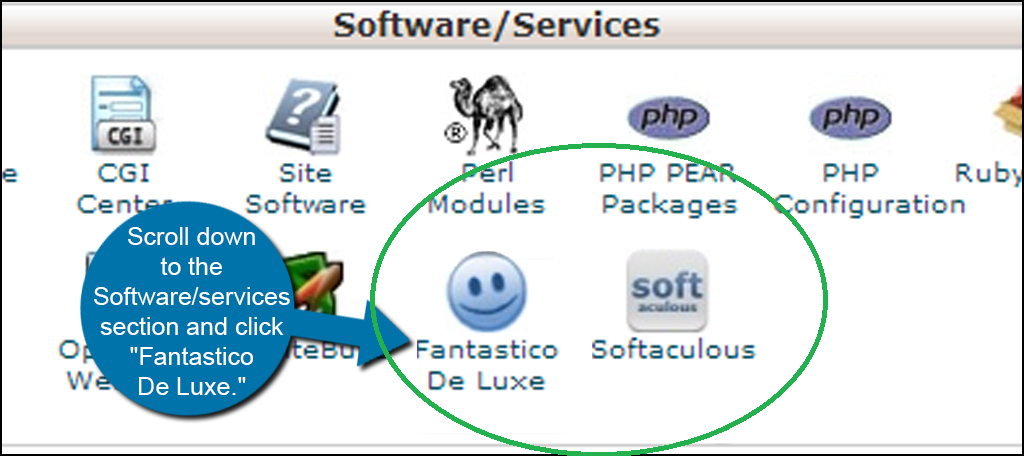 7. Popularity.
cPanel is widely accepted by potential web hosting clients and it is the biggest name in the web hosting control panel industry,  and is recognized by almost all potential web hosting clients.  This gives the client a sense of familiarity,  and also gives the client piece of mind,  as they know that they are getting a stable control panel system.
8.  Portability
cPanel is very portable with a straightforward move-ability feature. This means that the user will be able to transfer website from a hosting company to another without encountering any technical problem. It works like the flow of water – so smooth and does not bring up any technical glitches.
9. Upgrading a website is easier
When a website becomes bigger not just in the products or services it offers, but also in the number of hits that it has been getting. Webmaster has no choice but to upgrade his site, meaning increasing its bandwidth and web space so that it won't go through unnecessary downtime. Managing an account's resources would enable the website to load faster and more resilient during traffic spikes. And this can be accomplished with a few clicks of a button using cPanel.
Moreover, there are lots of apps that cPanel offer to its users. These apps range from blogs guest books, bulletin boards, and e-Commerce. These add-ons can all help build a more robust and dynamic website; one that can have a steady stream of visitors.
10. Frequent software updates
cPanel releases updates to their software quite often.  Many times,  upgrades are available daily,  or on an every other day basis.  This proves cPanel,  Inc's dedication to providing a quality control panel product.
11. Reliability and Support
cPanel rarely asks for your support and instead is always there as a reliable support for you to rely on. cPanel has the ability to automatically detect errors and restart the system on its own for refreshed service.
12. Saves money
cPanel has also enabled millions of its users to save money through the years. Because cPanel is relatively easy to use, someone with basic computer skills can take on the role of the website administrator. In fact, website owners themselves can do it. Or maybe their spouse or business partner. They no longer have to hire a professional to manage their sites.
Because cPanel is very easy to use, hosting providers, small and medium firms will be able to save on labor expenses as they don't need to hire expert system administrators. They can also minimize system administrator workload.
What is the disadvantages of cPanel hosting ?
cPanel is really designed for websites of small and medium firms. The cost of license can also be a problem for smaller businesses, as it may be a bit expensive for them as well as start-up firms.
Easy Target – It is extremely sad that such a proficient and powerful control panel would lack some basic security but it does. cPanel relies on the server of the software that it is managing. This always puts it at risk of becoming a soft target for the hackers as they can make their way in through a third-party source. Hence, encryption is a big problem with cPanel.
Different layout for WHM and cPanel   the reseller control panel,  which can make usage difficult for the user:    Web Host Manager,  cPanel's reseller control panel,  uses a different layout than that of the cPanel interface.  The WHM offers a framed layout,  with an elongated navigation on the left,  and an icon-based menu in the right window.  Although navigation in the Web Host Manager interface is incredibly easy,  it can prove to be confusing for some resellers.  Many other control panel software use the same base layout/design for both the reseller control panel and the end-user panel.
cPanel is an extremely powerful control panel.  It's advantages far outweigh it's disadvantages,  as you can deduce from the above.  As we know,  a company's control panel choice is based solely upon an opinion.  cPanel can not be considered the best because it is the most widely used – there are many comparable control panels available on the market,  and the term 'best' is simply a matter of opinion.  Regardless,  cPanel is an excellent piece of web hosting software,  and it would most certainly be an excellent choice.