All Plans Include
1000s of themes and plugins
One-click migration tool

sFTP access

 to WordPress files
Nightly backups and one-click site restore
Redundant firewalls, malware scanning and DDoS protection
Daily backups & 1 click restore
Automatic WordPress Core Updates

Temporary website address

One-click SSL installation
Localized in 37 countries and 17 languages

Premium WordPress Hosting Platform

Award-winning 24/7 support

Free domain with annual plan

*99.9% uptime guarantee
*Money-back guarantee

We made it simple
Spin up a new site in less than 30 seconds.
Haven't decided on your domain? Get started with a free 

temporary domain

 so you can choose the perfect URL later.
Stay up to date and secure with automatic WordPress core updates.
You have better things to do than manage your hosting.
Maintaining a website shouldn't mean spending hours optimizing your server and battling security threats. With Managed WordPress, we handle the technical stuff for you – server setup, security, backups, even performance optimization – so you can spend your time designing, managing content and doing what's important to you.
Built for speed, reliability and security
One of the fastest WordPress hosting platforms in the industry.
Optimized for WordPress with expert tweaks you won't find anywhere else.
Designed to handle huge traffic spikes with automatic scalability.
Guaranteed 99.9% uptime and support.
See how we deliver industry-leading performance.
Built for tech-savvy designers and developers, WordPress lets you create gorgeous, content-rich websites with 1000s of free themes and plugins developed by the WordPress community. And as a content management system (CMS), you can assign authors, manage permissions, even make change across your entire site at once instead of a page at a time.
With our managed WordPress Hosting plan, we will secure your wordpress site, scan the servers as well as checking for any outdated plugins or outdated WordPress versions and  sends notices for outdated versions or detected security risks. We may also send you emergency update notices and let you know which plugin has what kind of potential risk along with the required instructions of how to update the plugin.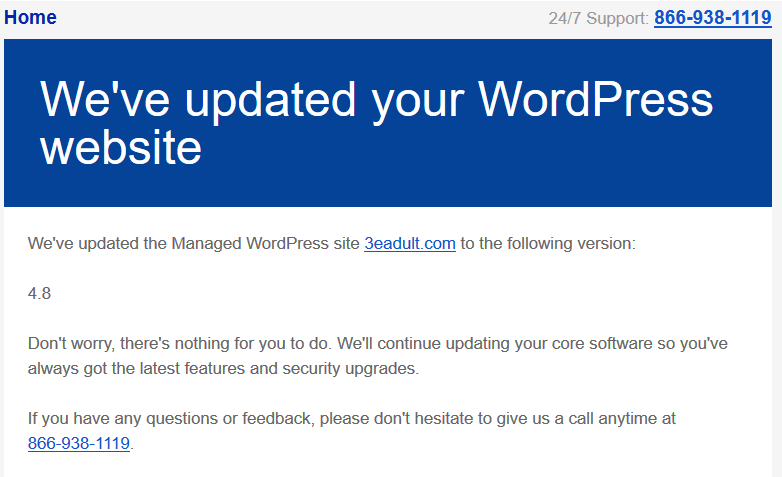 The Managed WordPress website core software updating notice
Our SSL certificate is very easy to install into your managed WordPress website. SSL (secure socket layer) performs the job of ensuring security of data transfer between your users and your browser. SSL certificate can be implemented in order to secure your admin panel. Another major benefit of implementing SSL is it helps your website rank better on Google. The higher the ranking is, the more the traffic a website can have.
Our managed WordPress hosting  is for sure the most excellent in the industry. Your wordpress site will be running with abundant server and bandwidth resources for business sites and websites with a significant high traffic.
Migrate with just a click
With our Managed WordPress, nearly 9 out of 10 migrations can be done using our simple one-click tool. And if you're a do-it-yourselfer who needs a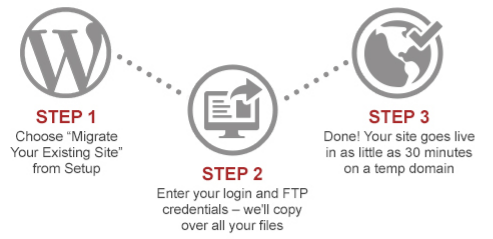 little help, we also have detailed instructions you can follow.
Key WordPress Hosting Features
Managed means easy
We do all this:
Automatic account setup
Automatic WordPress core updates
Nightly backups w/ 1-click restore
DDoS protection & site monitoring
Optimized WordPress servers
We have award-winning, 24/7 support ready to solve your toughest hosting issues, plus hundreds of WordPress videos and interactive walkthroughs.
Your site gets the personal bodyguard treatment, 24/7. Our security team monitors, thwarts, and deflects so you can rest easy.
Keep hackers away
So you can simply do this:
Build your awe-inspiring website
Host your website on the platform built expressly to optimize WordPress, with high-performance coolness like load-balanced servers and SSD drives.
Additional WordPress Hosting Features
Our WordPress search engine optimization (SEO) plugin walks through your site and automatically handles your site's SEO basics to get it seen by Google and other major search engines. No tech skills needed.
Create a full-blown staging environment to test your changes every which way before you release them into the wild.
Don't let your lack of a domain stop you from creating your website. Just start with one of our temporary domains and swap it out for the real thing later.
Log in to your WordPress server through SFTP/SSH and hit that command line. We even throw in wp-cli, vim & git—just because we can.
With our nifty auto-migration feature, you can migrate your WordPress site to us with one click. (If you use a custom login page or host at WordPress.com, our 24/7, award-winning support can walk you through your migration.)
When your site attracts visitors by the ton, you shouldn't have to stress over your plan's visitor limits. Get visitor overage protection, ignore your limits, and pay a minimal fee for every additional 10K visitors over plan.
Built-in WordPress Hosting Performance
We created our WordPress multi-tier hosting platform in-house and from the ground up to cater exclusively to WordPress sites. Every Managed WordPress site gets:
Load-balanced servers to handle visitor spikes
Multiple layers of caching for super efficiency
SSD drives to grab your site content wicked quick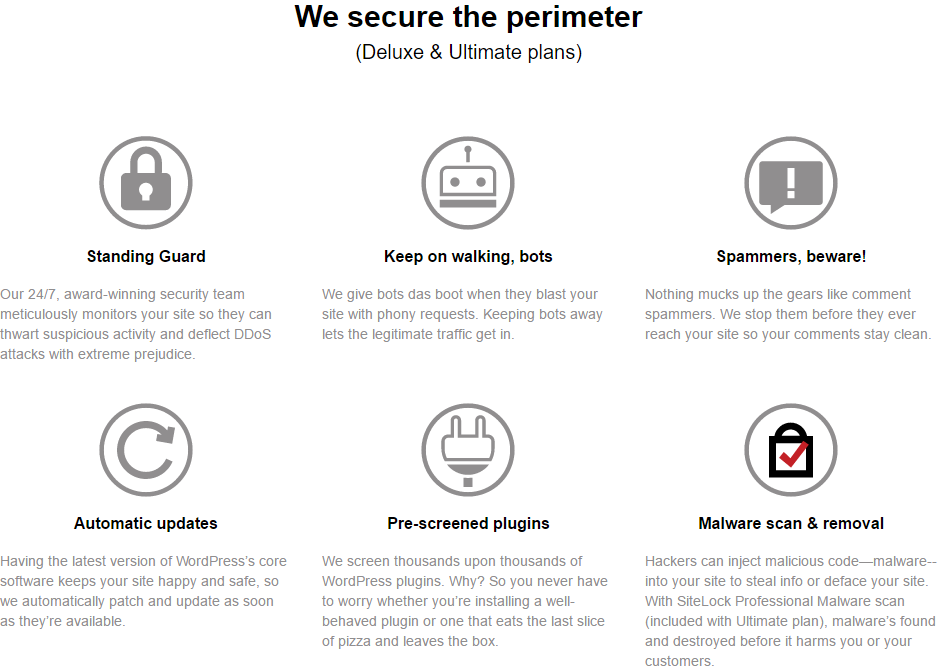 What is Managed WordPress Hosting
The WordPress community is present all around the world, WordPress professionals, designers, bloggers, enthusiasts often hold meeting to talk about WordPress and their functions as well as extensions. If you ever need a place to meet like-minded, inspiring individuals, consider participating in a WordCamp conference. In 2015 there have been 89 WordCamps, with over 21,000 tickets sold and 1,677 unique speakers.
WordPress.com ranks 44 among all websites in the Alex ranking system. There are currently more than 47.6 million websites that depend on WordPress. The keyword "WordPress" alone receives over 450,000 exact match searches every month. And that's just "WordPress", not "WordPress help" or "WordPress plugins" or anything of the sort. Eighty Percent of top one million Alex ranked websites are built up on WordPress. Of the top 1,000,000 sites in the world, the number of business sites (most popular with WordPress) powered by WordPress is five times the number of WordPress-managed news sites
With WordPress, you can manage anything from a simple personal site with just a few pages all the way up to a commercial site with hundreds of pages. The sky is the limit with WordPress, and thanks to that ease of use, it doesn't matter if you're a Web expert or just getting started. Anyone can create a fantastic website using WordPress.
In the 300+ content management system, WordPress is in the dominance of all CMS Market. It's ranks further up and away from even the most popular CMS, with the next two closest competitors — Joomla and Drupal — powering less than five percent of all websites. W3Techs' Matthias Gelbmann says WordPress's dominance is only going to get bigger.
By W3Tech statistics, WordPress sponsors more than 28.1% of all websites and is used by some of the best known websites: Time, TechCrunch, Wired and Lifehack, to simply name just a few. When we split up all websites by traffic level, we see that WordPress is leading at all levels.
Due to the popularity of WordPress,  A lot of web hosting providers have chosen to specialize in WordPress and offer what's known as managed WordPress hosting.
Managed WordPress hosting is a concierge service where all technical aspects of running WordPress is managed by the host. This includes anit-hacker, keep spammers away, security, speed, WordPress updates, daily backups, website up-time, and scan for virus and malware. Managed WordPress Hosting is to provide all WordPress Based webmasters a complete hassle-free experience, so webmasters can focus on running their business websites and do SEO, contacting their customers, make their website high ranked, socialize their websites in facebook, twitter, and other social media websites, and do what they want to do but worrying about their website security. This is especially important because so many WordPress websites are hacker-ed every year.
What is the Benefits of Managed WordPress Hosting ?
The benefits of Managed WordPress Hosting is known to almost all WordPress webmasters. The benefits include:
Free Premium Plugins – We provides a lot of free plugins for our Managed WordPress Websites;
Free Premium Themes  – We provide thousands of free themes for our Managed WordPress Websites;
Blacklisted Plugins and themes  – We have our own database of blacklisted plugins and themes and keep updating our database;
Backup and Restore – We provide daily backup, nightly backup and one click restore;
Redundant firewalls, malware scanning and DDoS protection – We will scan your site periodically for malware and offer advanced security features that prevent hackers from accessing your site at all (these features vary among providers). In the event malware does weasel its way into your website, many hosts will remove it for no additional charge.
Faster speeds: Our Premium WordPress Hosting Platform make your website super faster. Built specifically for WordPress to optimize the speed, reliability and security of your site. Cloud Hosting Servers were configured and speed up load times for WordPress. We have own own built-in caching and make your websites super faster, so you don't have to install your own caching plugins.
Comprehensive support: Customer support techs will know WordPress inside and out. You can ask them WordPress questions in addition to more general hosting-related questions.
Automatic WordPress Core Updates We will update your WordPress core automatically.
Temporary website address – Each plan includes a free domain, but if you're not ready to choose your name, you can use a temporary domain to set up your account and register your official domain later.
One-click SSL installation WordPress is pushing their user to move to SSL. So we make our Managed WordPress Websites install SSL super easy.
The Managed WordPress Hosting Provider Comparation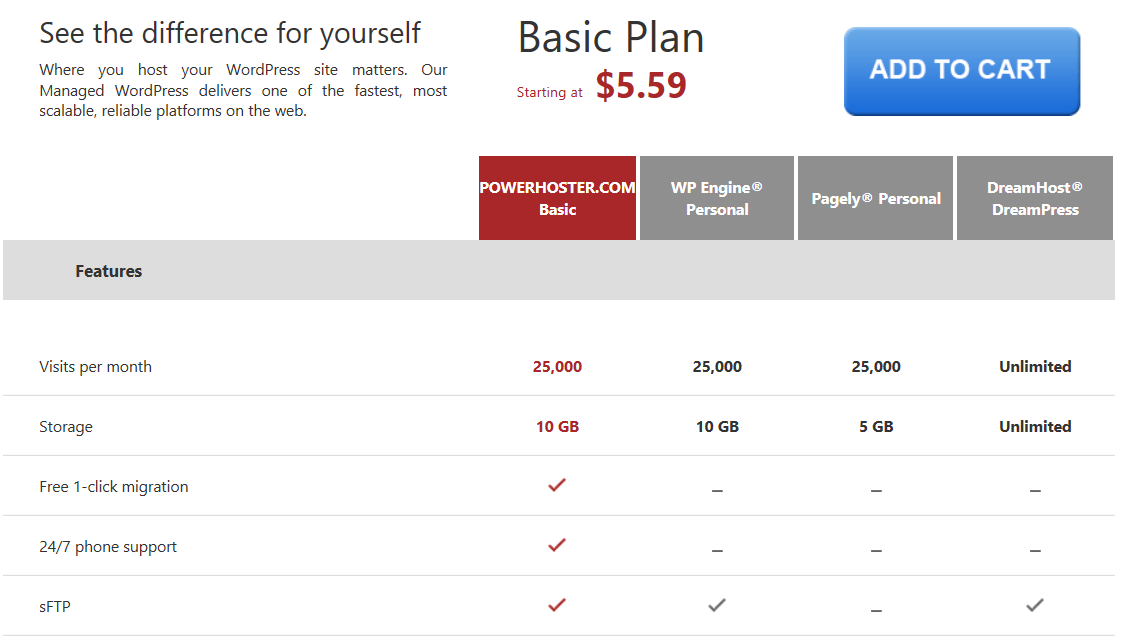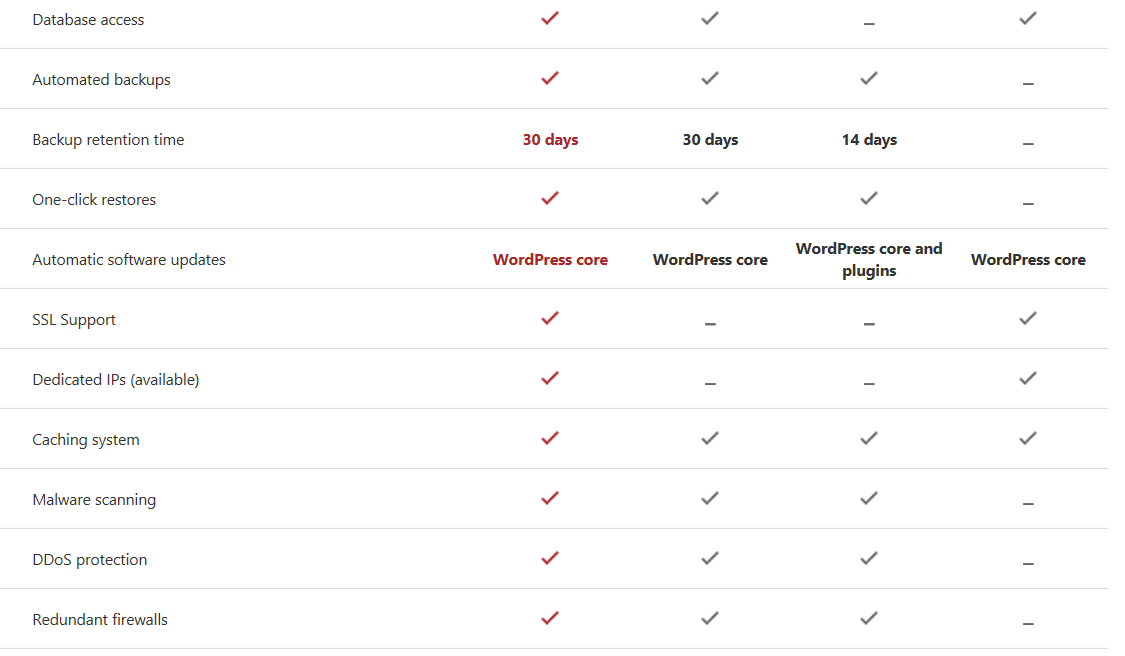 We can guarantee your 25,000 Visits at very cheap prices $5.59/m, and others may charge you dozens of USD. Some Managed WordPress Hosting even donot provide you security guarantee.